Let's get right too it darlings…
5. WHAT CELEBRITIES ARE DOING
AND THEN THERE WERE TWO…
Last week there was the announcement that KELLY OSBOURNE would be leaving FASHION POLICE on E! due to a disagreement about a topic, and now comes word that KATHY GRIFFIN is also out after just one award season. She states that she wasn't really a good fit and that she wishes them all the best of luck. I swear no one is going to watch that show with just GUILIANA and that other boy. I guess I'll be watching FASHION QUEENS on BRAVO for weekly fashion opines.
IT'S ALL IN THE FOOTAGE…
TAM'S BURGER in COMPTON has released drive thru footage of SUGE KNIGHT'S Janaury 29th hit and run. Apparently one of the guys approaches the vehicle, he is clipped by Suge's mirror and then three other men approach and one man is run over and left with a crushed scull, which he eventually died from his injuries. SUGE KNIGHT is clearly guilty, but this fool is trying his best to come off innocent by saying that is/was partially blind and came into court with a cane and shades to prove such. THIS IS BECOMING TOO MUCH. Good luck to the former music mogul and prayers are with the family of victim.
SPARE THE ROD…CORRECTION USE THE ROD…
R&B diva ANGIE STONE has been arrested for beating the piss out of her daughter DIAMOND with a metal rod for not cleaning up after herself and her kids. The scuffle happened last week and it left Stone's daughter without her front teeth. A MESS!!! First of all, why is your 30 year old daughter staying with you and her kid(s) and secondly, why should you have to tell a GROWN AS WOMAN to clean up after herself. And thirdly, who knew Angie Stone was old enough to have a 30 year old child? These and many questions will be answered on the next episode of AS THE R&B DIVA'S WORLD TURNS…DUN, DUN, DUN…
UP DOWN, UP DOWN, UP DOWN…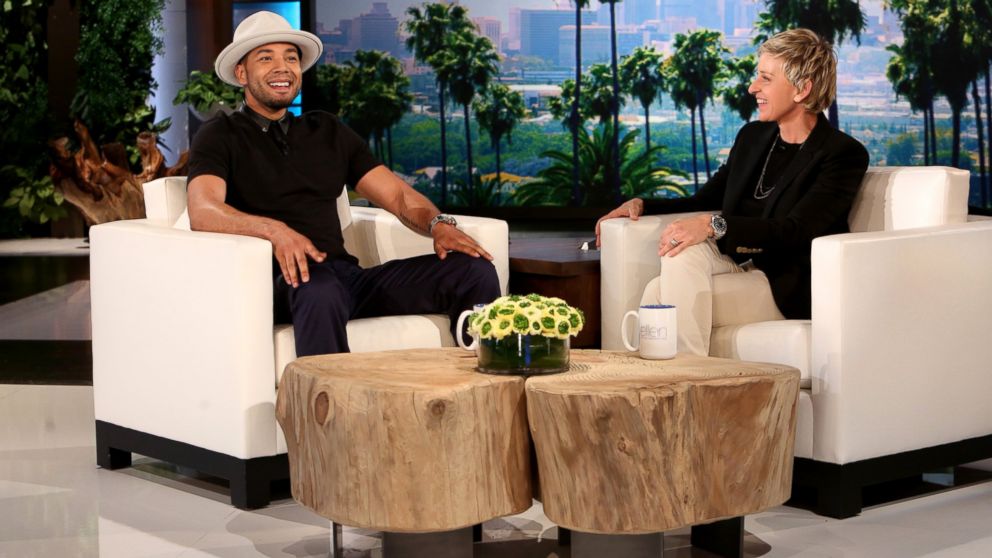 EMPIRE star and fan favorite JUSSIE SMOLLETT, who plays lynchpin JAMAL LYONS, has come out the closet, well not really, but he said, "There has never been a closet," to ELLEN last week. But quiet as it's kept MALIK YOBA, his co-star, mistakenly outed him a few weeks ago. But honestly there was no question about the performer's sexuality because of the equal rights tattoo on his right arm (not saying that's a thing); but it shouldn't EVEN matter as he is burning up the charts with his music and bringing killer performances weekly to EMPIRE. Thanks for being you Mr. Jussie Smollett and continue to bring your A-GAME weekly on our favorite new show… If you haven't watched the finale you need to do just so! It's full of plot twits and turns that will turn your expressions and emotions all around!
PAY UP!!!
PHARRELL AND ROBIN THICKE are going to be forced to pony up nearly 7 million dollars to the MARVIN GAYE estate for what was clearly a stolen song in BLURRED LINES. The jury made their decision after listening to bars of both songs and concluding that they were just alike. Well it looks like the GAYE children will have something to celebrate and continue to live well off for years to come.
4. ODD NEWS ISH…
RED HIGHWAY…
Pennsylvania got a sweet surprise this week when a truck carrying TWIZZLERS were spilled all over highway 170 near WESTMORELAND COUNTY last week. The highway was shut down for a few hours while crews cleaned up the mess, no doubt taking the loot with them, because I sure would have. Foggy conditions may have led to the incident.
NOT LOST IN TRANSLATION…
RODNER FIGUEROA, a UNIVISION fashion expert was fired last week when he said that FIRST LADY MICHELLE OBAMA looked like something from THE PLANET OF THE APES. Though he tried to backtrack during the live segment, and though it was edited for the WEST COAST playback, Figueroa was fired immediately for his insensitive and also racial remarks. WOW!!! Spanish or English, respect should be given regardless.
SWEET DARE…
Florida is just a weird ass state as a woman was arrested last week for being completely naked in front of a DUNKIN' DOUGHNUTS near WEST PALM BEACH. She was beginning to scare the customers so the employees called the cops. When they arrived, she said that it was a dare from her sorority she was pledging and she profusely apologized. But she was charged with indecent exposure.  SISTERHOOD means this much to you boo?
EVERYTHING IS AT WAL-MART…
…Including METH. An INDIANA Walmart is still trying to figure out who left a backpack in a bathroom that contained a fully functioning METHLAB in it. It was discovered by an employee at the store, and police removed it immediately. The store said that the restrooms were thoroughly cleaned before the store was reopened. LUCKY THEM!!!
1 + 1 = 6…
What happens when the bride is lied to about the groom's educational background? Well in INDIA a bride promptly walked out on her groom to be in her arranged marriage because he couldn't answer a simple math question. First of all, who doesn't know simple math and second of all, there are still arranged marriages? Things that make you go hmmm…
3. GONE TO SEE JESUS…
Actor WINDELL MIDDLEBROOKS died at the age of 36 last week from unknown reasons foul play is not suspected. He was famous for his witty commercials as the MILLER HIGH LIFE GUY. He was also a regular actor on many comedies and dramas on television.
FACTS OF LIFE co-creator JENNA MCMAHON died last week at the age of 89 years of age. She died of heart failure. She was a premier and prolific comedic writer of the 70s and 80s and made numerous appearances on television before creating the iconic series.
After a long battle with ALS, writer RICHARD GLATZER died at the age of 63. He was the OSCAR NOMINATED writer of STILL ALICE, which JULLIANE MOORE just won THE LEAD ACTRESS OSCAR for. He's also known for THE LAST OF ROBINHOOD and THE FLUFFER.
2. THAT FACE…THAT BODY…THAT CONTRACT…
POP DIVA RIHNNA is becoming an iconic BRAND as she has signed on to be the first BLACK FACE of DIOR. JULIA ROBERTS and CHARLISE THERON have also been the face of DIOR. This isn't the first brand the singer/actress has associated herself with. The UMBRELLA singer is also the brand ambassador for PUMA, BALMAIN, as well as NAKEDNESS.
1. YOUNG WEEZY, AWWW POOR YOUNG WEEZY…
First a bomb threat was called on his mansion in MIAMI that proved to be a false alarm and a waste of time. Second comes a huge mess up at a concert thrown for a group of students in Louisiana. LIL' WAYNE has had a messed up week to say the least.  But WAYNE is coming around and making nice with his DJ who messed up and played the real version of "I'M IN LOVE THE CO-CO," instead of his version that was to go in on his ex label and their shady ways. Hopefully this week is better for you WAYNE and keep your head up. You only have millions to keep you warm….