6. MAYBE IT'S NOT ACTING…
Actress and acting coach Tasha Smith from Tyler Perry's movies, television shows, et all has been ordered to stay 100 feet from her husband Keith and 2 feet from him while in the house together, REALLY JUDGE…All this was done because the actress has allegedly been getting drunk as skunk and threatening the poor stay at home husband's life and even doing it in front of his kids…DAAAAMNNN, maybe the scenes between her and Michael Jai White are based in reality. Here's hoping this all get resolved, or I see another Tyler Perry movie/play in the works…WHY DID TASHA SMITH GO TO JAIL…YASSS…
5. THE "HIT-MAKER" HITS HIS GF ON A DATE?!
Rapper Young Berg has been making news this week for not one but two reasons.  The first was because he allegedly beat his girlfriend Masika to the point of being unrecognizable over a credit card being declined while on a date. Love and Hip Hop L.A.'s producers took swift action and gave the not oft seen rapper the boot and his girlfriend as well have been fired from the show. Now how will he pay that credit card bill that lead to the card being declined if he doesn't have a job? God knows he hasn't had a hit in years. A hot hit-maker ass mess.
4. YOU GOT TO BUY MY S***
No more streaming on Pandora, Spotify or the like for Taylor Swift fans, as the young songstress pulled her whole catalogue from the streaming service last week. She said this was in an effort to bolster album sells of her new album 1989, and in an unprecedented moved, she's setting the precedence for other artists who don't want to have their music streamed. So, get ready to buy your music now. No more "Thumbs Up" and creating lists to listen to while at the gym, driving your car or ignoring your girlfriend, you'll just have to buy the newest music of your choice.
3. KEEPING IT "REAL"…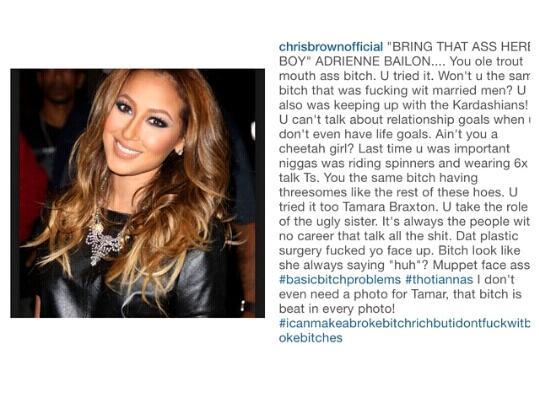 Much beguiled former singer, according to many sources, Chris Brown is making waves again on social media with a new feud with THE REAL's Tamar Braxton and Adrianne Bailon. After making comments about the singer's relationship with his girlfriend Karruchee Tran, Chris Brown took to Instagram and called Adrian and Tamar everything but a child of God. The singer didn't take kindly to being discussed as an example and promptly let them new in the most bitchtastic rant in years. He later pulled the comments and the video, but not before Tamar and Adrianne popped back with their own video calling Chris Brown out and letting him know that he's hating is only making them greater…Sounds fun ladies…Now let's be nice to each other. There is enough room for everyone.
2. KEEPING UP WITH THE KARDA….CARTERS
Beyoncé announced early this week that she would be releasing two new tracks on a rerelease of her self-titled album. Mrs. Carter is so busy with those two tracks and trying to make it seem like she's still happily married, it's no wonder she looked faded at a NET'S game or was that just the mind control from SATAN showing off?
In other Carters' news, husband Jay-Z purchased ACE OF SPADE, luxury champagne. He's taking his dominance over the world of entertainment by having a successful rap career, artist management, sports management and now luxury beverage owner.  That billion dollars on the elevator is about to get a little bit bigger.
1. HISTORY BEING MADE…AGAIN…
After Eric Holder resigned as the Attorney General last month, rumors and speculation had been running rampant as to who would replace the first African-American A.G. News came down this week that North Carolina native and black woman Loretta Lynch will be taking over the position. Here's hoping she can keep the controversy at bay, and A++++ for President Obama for looking towards another minority, this time a woman of color, to fill such an influential position. He's going to need all the luck he can get with all the newly Republican controlled Senate blocking his every move.
That's it for this week…Check back next week for all the latest news that's taking the world by storm…