1. Is the NFL Begging?
The NFL is finding new and inventive ways of getting advertisers to invest. With the influx of DVRing, muting the tv once on commercials to talk about what they would have done (the fans), NFL Execs have gotten smarter with putting the product directly on the field in graphics between plays. So, you may just get a hankering for some Tositos, some Bud Light or to buy a Toyota.  Forget subliminal and product placement, they are going to make you buy their product one way or another.
2. Nikki Minaj breaks a record bigger than her ass!
I guess the "Tops be down in a booming system" always for Nikki Manij and her millions of followers and fans. It was just announced that the former "Black Lady Gaga" has topped Michael Jackson as the owner of the number of hits on the Billboard Charts. Miss Manij has amassed 51 hits…and she just stepped into the game just recently. I guess features do count. I guess also that this new generation will latch on to anything and buy or download…
3. Robin Thicke's Paula album is as bad as his relationship
Poor Robin Thicke can't catch a break. His latest album "Paula" didn't even do "copper" on the charts and the "Blurred Lines" singer is now having to lower the price of his concert tickets, or cancel the show. Damn, dude you can't cheat on your wife, write whack ass I'm sorry songs, and then expect the public to love you. Do like all good respecting cheaters do, lie.
4. For my third wish: Genie, I set you free.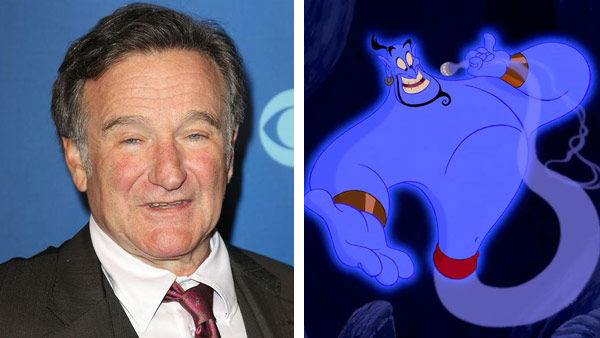 Actors are dropping left and right. The shocking death of Robin Williams is still takes my breath away. You just knew he would be around forever becoming that character actor who would be the inappropriate grandfather, uncle etc in romantic comedies in the near future. You also knew that he was going to entertain us until Jesus Christ himself came back. But alas life proved too much for the comic legend and he killed himself. He will always be Popeye, Genie and Mrs. Doubtfire to me. He will live on in his movies and his works.
5. "#DontShoot"
As many of you know Michael Brown, an unarmed civilian, was killed "like an animal" earlier this week by a police officer that "felt" threatened. Death and killing is always sad, but what makes this even sadder is that he is one of many causalities of police brutality in the last month alone. Many African-Americans fall victim to senseless beating, killing and profiling at the hand of police officers in the many cities that make up these United States of America. Many accuse them of being racist, pointed and not caring. I believe that the anger that is being directed is warranted, and we should fight for justice, equality and The American Way. We, by law of our Constitution, have the right the "Bare Arms." And the NRA has been put in place to protect that right, but many feel as though it's a double standard when it comes to blacks vs. whites and that rule. Prayers are with the victims and those protesting said events. I believe that there should be something done to protect us as citizens, even blacks. But we also after this incident and the consequential reaction to said incident, should turn the mirror back on ourselves and see that thousands of African-Americans, many being under the age of 25, are being killed in our neighborhoods daily by, get this, ourselves. We can't expect others to treat us differently, if we aren't treating ourselves with respect.
Tune in every Monday with V.A. Patrick Slade for more pop-culture, gossip, and world news!
Facebook: vasladewriter
Twitter: @VAPatrickSlade
IG: theeyesofva